2021 Kids Fishing Kamp
The 2021 Kids Kamp program will begin on June 28 (dates below) and thanks to all of you who volunteered! Contact Denny (DWARPLUM@AOl.COM) to volunteer if you haven't already. If you volunteered and won't be able to participate, let Denny know as soon as possible.
Camp Leo is scheduled for July 20 from 8:45 AM until 11:00 AM. Camp Leo is an opportunity for visually impaired children to enjoy the fun of fishing. Camp Leo volunteers usually mention the personal satisfaction they get from working with these children. Volunteers work "one on one" with these children and we need fifteen volunteers. Contact Denny (DWARPLUM@AOl.COM) as soon as possible to volunteer.
Camp Leo
July 20: 8:45 AM- 11:00 AM
Kids Camp
1. June 28 & 30
2. July 7
3. July 12 & 14
4. July 19 & 21
5. July 26 & 28
6. August 2 & 4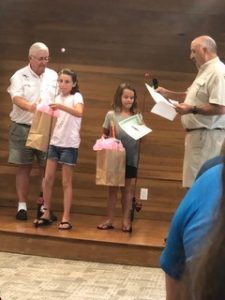 2019 Winners of the Kids Camp Largest Fish Contest:
Bruce Hermen: 21" Bass
Evie Sullivan: 19" Bass
Ella Shaw: 19" Catfish